Last week I put out a question on Instagram asking what is the ONE thing you'd like help with most when it comes to your Pinterest strategy. The majority of all of your answers had something to do with Pin descriptions. Specifically, it sounds like you're struggling to figure out how to craft the best Pin descriptions so that your pins are set up for success on Pinterest (and help drive more Pinterest traffic).
There are two main functions of a Pin description:
Strong Pin descriptions will increase the chances that your Pin gets surfaced on Pinterest when a user searchers for something specific (a recipe, a DIY, a gift idea, etc).
Strong Pin descriptions will increase the click through rate of your pins. If a Pinner reads your description, you want them to feel compelled to click through to your website or blog to read more or  to shop.
Both of these are equally important. You want your content being discovered by more people and you want those people clicking through to get more content on your blog or website, or making a purchase.
Creating strong + strategic Pin descriptions will drive more Pinterest traffic to your site.
Click To Tweet
Writing strong and strategic Pin description will increase the chances that your content gets seen and clicked on.
And the main way to accomplish this is to optimize your Pin descriptions with keywords to help Pinterest understand what your content is about. This will increase the chances if gets surfaced in Pinterest search and in the Smart Feed. When a Pin gets saved from your site (or you add a Pin directly), Pinterest determines what your content is about by looking at a couple different factors, but the main one is your Pin's description. Think of Pinterest as a search engine and use your description to let Pinterest know what your content is about. The best way to do this is to create keyword rich, search-friendly descriptions.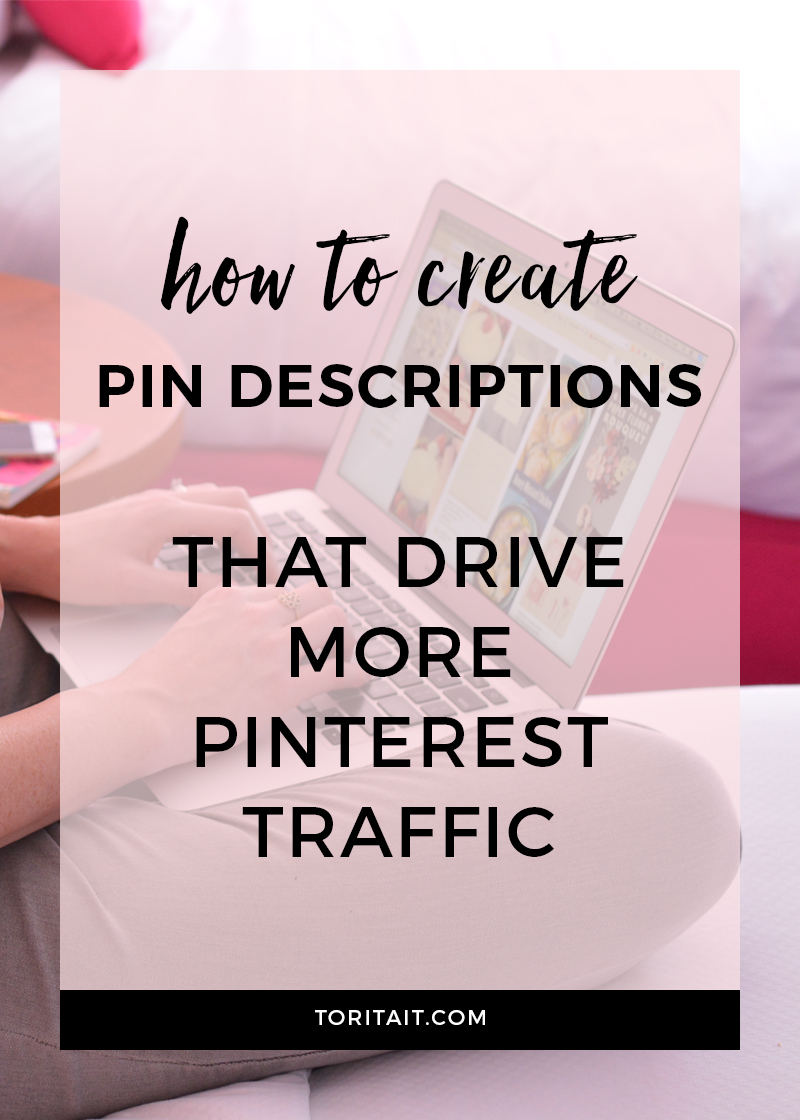 Here are my DIY Marketing Tips to help you craft powerful Pin descriptions:
Think like the Pinner searching for your content. This is what I call "getting your head in the game." Before I craft any Pinterest description, I think about what a Pinner might be searching for and how my image can help them with that search. Then, I use those terms and keyword phrases to help me craft a Pin description that feels conversational and helpful. People will see your image first, but they might read your description before they decide to repin or click on your image. Make sure it's useful and clear as to what your content is about. Give them a reason to click!

Pinterest matches both broad phase and keyword match so be sure to create descriptions that are in a conversational tone for the best chances of getting your content surfaced in the feed. You don't want to just add a list of keywords, but rather use those terms in a sentence or two that is relevant to your image and content. The idea of broad matching your keyword is important because when a Pinner is searching on Pinterest they often aren't looking for something really specific, but more are searching general ideas or looking for inspiration. Where, on Google, searches are typically more focused and searches know what they are looking for. Pinterest gives you the opportunity to have your content be discovered by someone who might not have known exactly what they were looking for but found your Pin to be very interesting or relevant.

Do a bit of research first. Just like when you are thinking of what SEO terms to use for your blog post, you'll want to do the same exercise for Pinterest. I like to search on Pinterest (just start typing in the search bar) to see what people might be looking for, and what Pins get surfaced with what terms. I also use Google Key Word planner to search keywords that relate to my content. I take both the Google Key Word suggestions and the Pinterest results into consideration before coming up with my Pin description.
Keep descriptions to a strong sentence or two. You want them to be descriptive but not too long. Make it clear exactly what your content is about should someone click on it.
Add the keywords and keyword phrases to the beginning of the description. This will help Pinterest and the Pinner quickly understand what your content is about. People have short attention spans, don't make them read on and on to get to the main point.
Try adding a call to action in your description. Sometimes adding a call to action can help increase traffic from a Pin. If there is one relevant to your content, try adding it in at the end. (Examples: "Browse all of our spring styles now." or "See the complete DIY steps on our blog." or "Watch my recipe video.")
*But don't stop there! Once you know what makes a strong and strategic Pin description, be sure to know where to add it so that ALL  of your  images are set up for success on Pinterest.
Sure, when you add a Pin to Pinterest you will make sure your description is strong, but the real power play is making sure that your images are set up on your blog or website so that if a reader comes to your site and saves something to Pinterest, those Pin descriptions are populated to be strong and strategic. 
There are several way a reader might "save" an image from your site to Pinterest. Let's walk through the different ways someone might save  an image to to Pinterest from my entertaining blog, Thoughtfully Simple.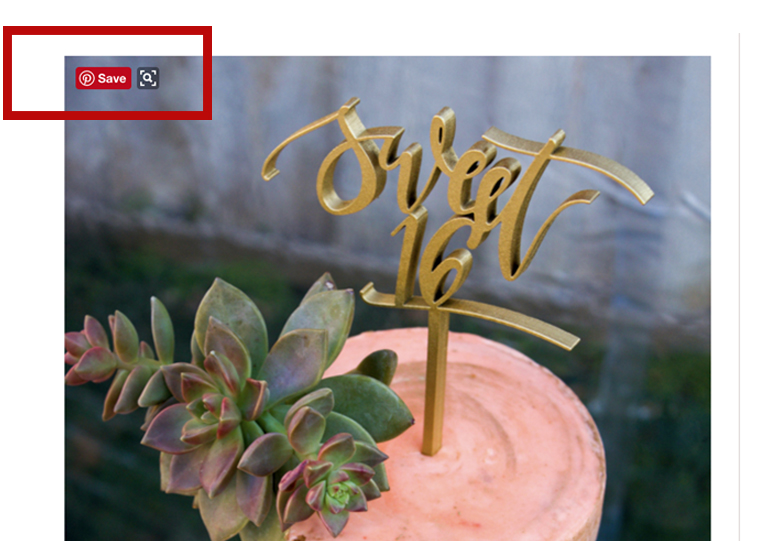 1. From the a browser extension that adds a Pinterest button to all images they are viewing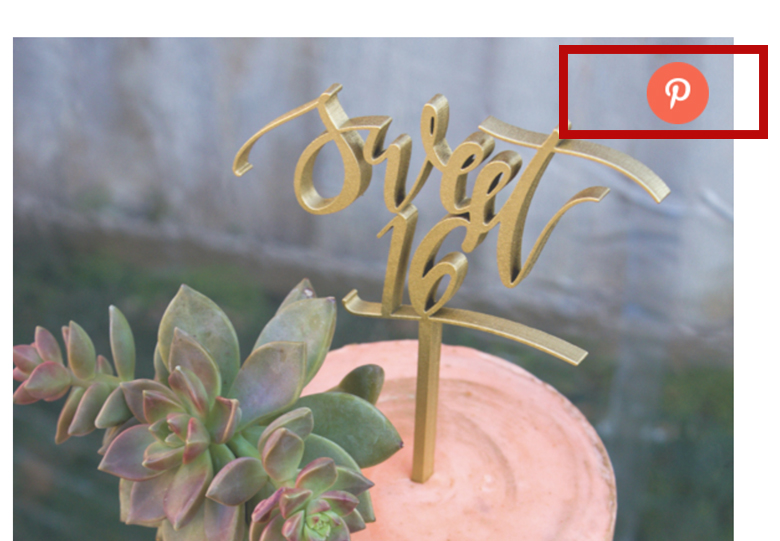 2. From a custom Pin It button that might be installed on your website or blog.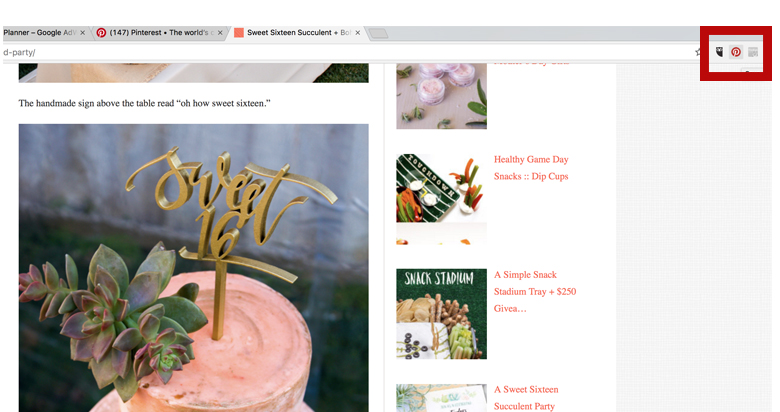 3. From a bookmarklet in their browser bar.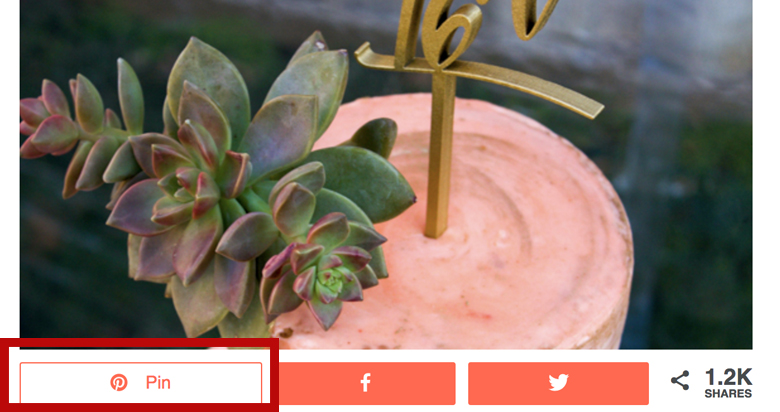 4. From a custom social sharing plugin you have installed on your website or blog (I use one, above, called Social Warefare).
Here's what it looks like when someone uses one of these options to save an image to Pinterest:
In the cases of 1-3 above, the Pin descriptions will be pulled in based on the 'alt image tag' you added when you created your post. Didn't create one? If you're seeing something like IMG.239 then you might have skipped this step. You'll want to make sure you add 'alt image tags' on every image moving forward. This is a valuable tool for Google SEO, and obviously plays into your Pinterest success. Your 'alt image tag' should be your ideal Pin description. You'll need one to each image in your post since a reader can Pin any image from your site. I like to keep the main phrase the same but mix it up a little for each image. This is so that your description is relevant to the image being pinned and it also makes your site look less like you are just repeating keywords verbatim in order to get higher SEO rankings.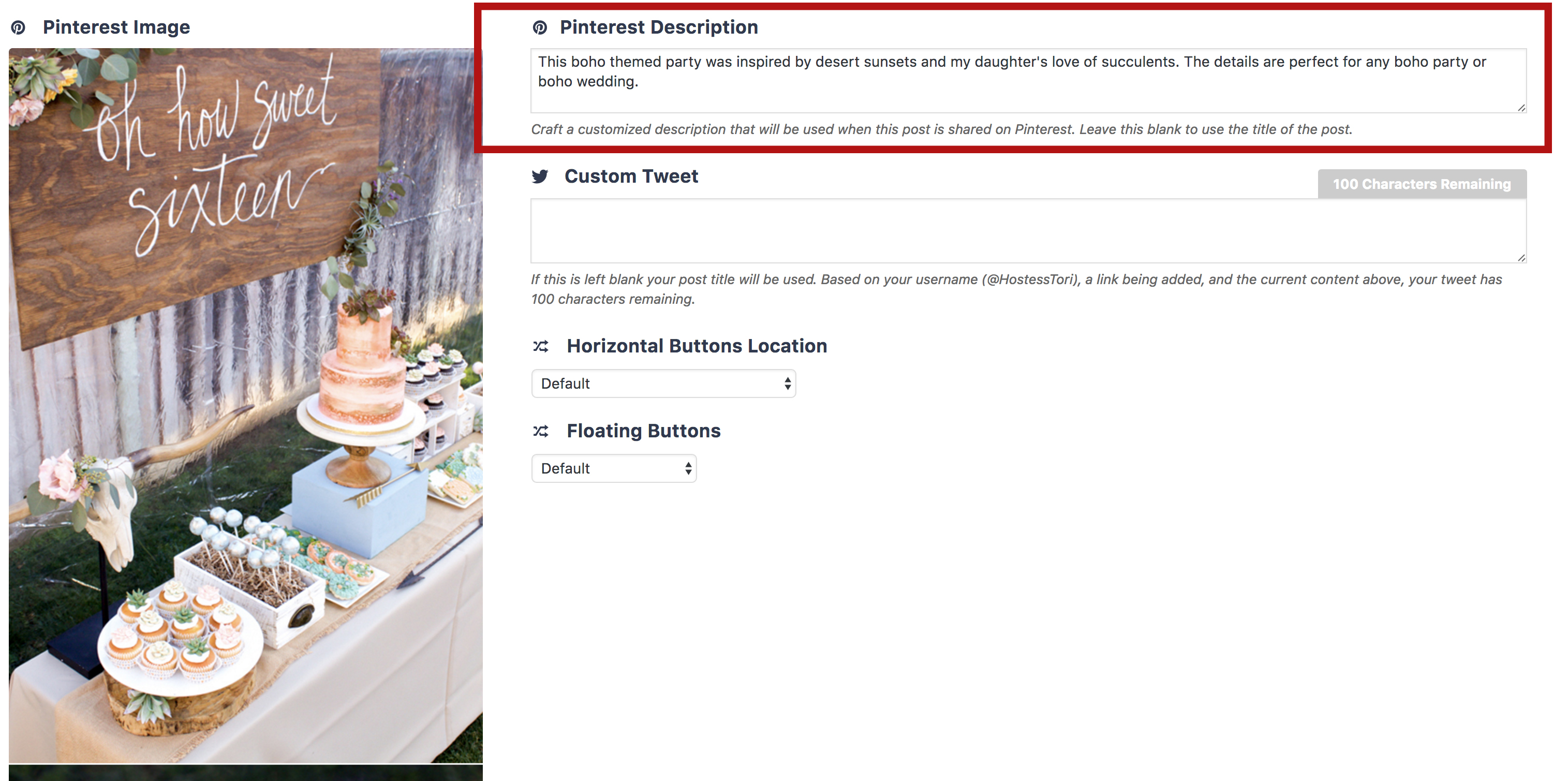 If you use a custom social media sharing plugin (like shown in #4 above), you will likely have the option when creating your post to add a specific Pinterest description, and even an image. These will be hidden from your post but pop up if someone uses the "Pin it" plugin on your post. I am a big fan of Social Warfare but there are many others. Try it out on this post–just click the Pinterest button at the bottom.
If you have an ecommerce site, check out the setting of your specific platform. Often, the Pinterest description is your page's meta description which can work well if it's already optimized for SEO. Sometimes, by default, it will pull in your page's meta title. If you can, I would advise switching it to the meta description as that will be a better optimized (longer) phrase which will work best on Pinterest.
Are these tips helpful in understanding how to best utilized Pin descriptions to get your content discovered and to drive traffic? 
Start implementing these tactics on any new content going forward. Plus, take a look at your most pinned content from your blog or website (most direct Pins, not Repins) and make sure those 'alt image tags' and any plugins you have are fully optimized. That way, from this point going forward, that content will perform even better for you. If people are coming to your site and sharing specific image, be sure that content is the strongest it can be so that it turns into more traffic come from Pinterest down the road. This is easy to do simply by updating your Pin descriptions (aka 'alt image tags').
(Not sure how to know what content is being pinned the most from your blog or website? I'll tackle that in an upcoming post.)