I don't have a good hypothesis as to why, but I really feel like most real estate agents are stuck in the 90's when it comes to marketing. In the real estate industry it really comes down to your reputation, your relationships, and staying top of mind–so, this surprises me. Why haven't more agents jumped into the modern digital marketing world? I mean paper calendar mailers and fridge magnets might have worked before–but….I mean. I don't hear a lot of people talking about Instagram for real estate agents so I wonder if it just never crossed your mind. Have you considered using Instagram to grow your business?
Instagram is the perfect social media channel for real estate agents to market themselves (I'll get in the specific reasons why and tactics in just a moment). But yet, it seems very few are testing this channel. In fact, this industry as whole seems to be really lagging in the adoption of social media marketing.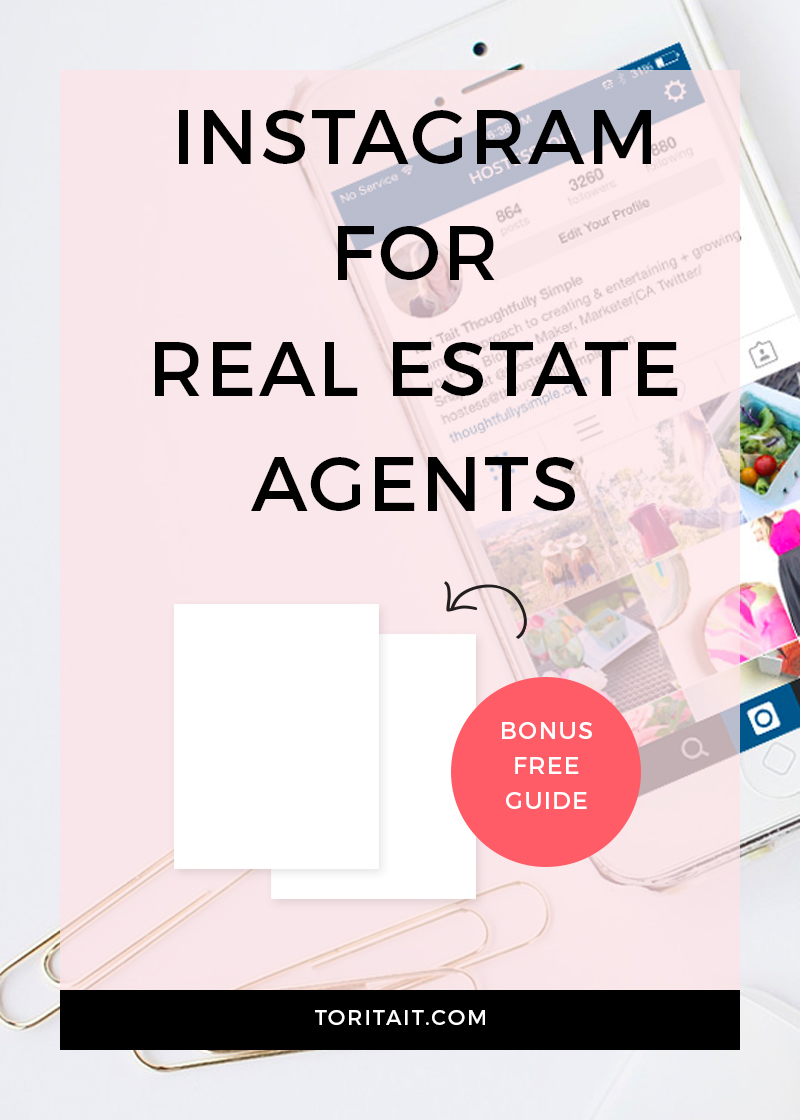 I was encouraged to find this this snap shot highlighting a handful of agents and teams around the country who have seen success with marketing on Instagram. I think there is so much opportunity for real estate agents on the platform. The fact that not many are doing it (or doing it well) gives those who tap into the channel, a huge advantage. Maybe it's because I work in this space, but I always believe in spotting an early opportunity and testing it out. There can be big rewards in being somewhere first. How many agents do you know using Instagram successfully? Exactly.
If you're a real estate agent, you need to be marketing on Instagram–here are 7 reasons why.
Click To Tweet
Are you a real estate agent? Here's why you should be using Instagram: 
Your next lead is already there. And they're taking Instagram with them everywhere they go. To kill time in the carpool lane, in line at the grocery store, scrolling through their feed while in bed at night. You'll essentially be in their pocket at all times. And if you're using Instagram constantly and doing it well, you will stay top of mind with current leads and attract new ones at the same time.
Looking for a house is overwhelming, Instagram makes it feel easier. It's all exciting at first, but after browsing Zillow or Trulia for the 27th hour, one can easily feel burned out. I've been there. You know what I like to look at for a break? Instagram. If I can discover my next favorite listing while browsing Instagram in the evening, sign me up! Agents can continue to present relevant content in a way that doesn't feel pushy or overwhelming to potential buyers.
It's an on-the-go powerhouse marketing tool that you can easily use. You can take it with you to every open house, showing, meeting, etc. With just your  phone's camera and a little bit of editing practice, you can create stunning and engaging content while you are doing your day-to-day. Easily post stunning photos and videos? Check. Post the content in real time, or save it to your phone and post later on (my preference). You'll have all the photos and notes right in your pocket ready to go. Instagram definitely fits with the busy schedule of an agent.
You build relationships quickly and easily. With the right mix of personality and behind the scenes content, people will begin to know, like, and trust you–the agent. It might seem weird to say people will "know you" but there are definitely people on Instagram I follow that I feel like I know well because of the content they post and the exchanges we have there. This takes out the "getting to know you" part of the relationship (or at least significantly reduces it). People will already have a sense for your personality and work ethic and they will be attracted to you or they won't (which just means they weren't going to be the right fit anyway).
You can easily move conversations from public to private. A lot happens behind the scenes in private Instagram messages as well. You can send people (or groups of people) images and videos privately which can be helpful for sharing images of listings that would be perfect for them if they've expressed interest. You can also ask someone to send you a direct message with their email to that you can follow up with them to share more info and set up a meeting.
You can become seen as a trusted source and go-to in your particular region or area. Since you will want to have a more well-rounded account than just photos of listings (more on that later!) you can leverage photos of local spots, community events, and even your personal life as it fits in. You can use Instagram to not only make the houses look appealing, but also the neighborhoods and communities. This would appeal to buyers in a big way.
Your competition probably isn't doing Instagram well. Which means there is a big opportunity for you. I took five minutes and did a quick Instagram hashtag search for my city and the results were far from impressive. I searched #MurrietaRealEstateAgents (you can insert your city and do the same search) and although I did find about 140 search results, they were not great. I clicked through some of the best images to that agent's account and then was really unimpressed. I encourage you to do your own search and see what the competition looks like. I bet, if there is some content from local agents, overall their Instagram presence is lacking.
What does a good real estate agent Instagram account look like? I really like this agent's account from Florida. I think she's nailing so many things–quality photography with an Instagram-first aesthetic, subject matter that makes sense for her business, relationship building content (love the client celebrations), personality, and expertise.  Her feed doesn't look like a collage of badly designed print ads, and it's not selfies or photos of her dog. It's beautiful content that feels personable and relevant to who she is trying to attract and engage with.
Although accounts will look different based on your own style, location, and personality, I do believe they're are basic tactics to a successful real estate Instagram account.
Hopefully I've helped you see the opportunity here (and we didn't even touch on Instagram advertising yet). If you're still not certain what you would post, here is a list of content ideas I brainstormed. Feel free to download it for free, below. Remember, in many cases your Instagram profile will be your first impression to a potential lead. Take a little time to plan so that you can make sure it's a good one!
Questions? Feel free to ask them in the comments. 
And feel free to connect with me on Instagram. I'd be happy to check out your account. I can't wait to see the great things you do!