How much time are you spending trying to promote your work and your business on Pinterest? Most bloggers and online businesses owners I speak to fall somewhere on the spectrum of "way too much time" and "not nearly enough time."  And although these are wildly opposite answers, they both tell me the same thing–you aren't sure what's working . . . or what to focus on.
Does this sound like you?
The good news is that I know you can get amazing results (meaning traffic and sales) from Pinterest without spending a lot of time or energy. BUT, you have to be focusing on the right things. I'm going to share more Pinterest marketing tips that I hope help you feel more excited about leveraging the channel for your business. A simple and smart strategy is critical to seeing success. Unfortunately many people (those just starting out and even more established bloggers and brands) tend to focus their energy on areas that aren't really that important. This often results in frustration and overwhelm.
Not fun, and definitely not meaningful for your blog, brand, or business.
Here's the truth, I spend about 10 minutes a day on Pinterest across two businesses and see wild success for both. It can be done with limited time as long as you're focusing on the right things. (And by right, I mean the things that are going to help you increase your Pinterest traffic.)
Not happy with your Pinterest marketing results? You might be making one of these 3 mistakes.
Click To Tweet
Here are three things I commonly see bloggers and entrepreneurs focusing on that are likely taking a lot of their time, and not gaining them the results they are looking for. Can you relate to any of them? Let me know if you think you're making one of these Pinterest marketing mistakes.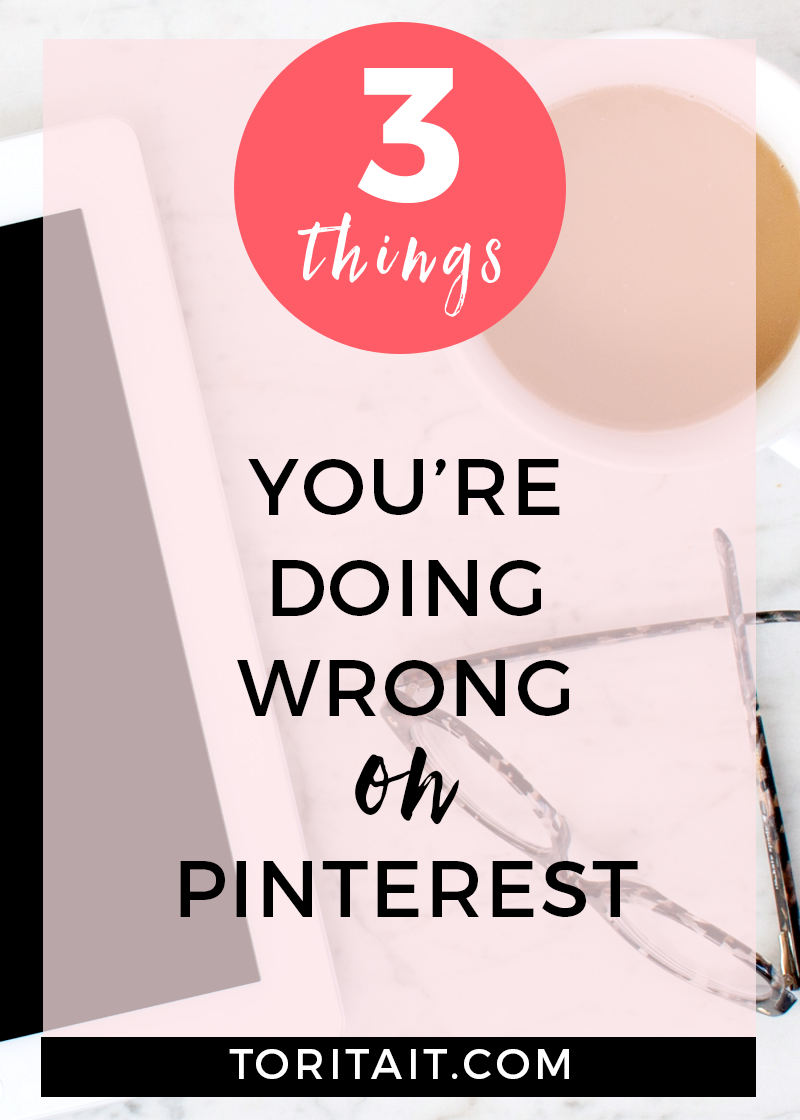 1. Creating images that look like everyone else's.
There are billions of images on Pinterest. In order for your content to stand out it in a Pinner's feed, it needs to be unique, eye catching, and appear valuable. However, this seems to be the opposite of what everyone else is doing. I see so many blog posts on topics of the best Pinterest pin styles that urge everyone to just replicate a specific style. If you do the exact same thing as everyone else, what makes your content more unique, eye  catching, or valuable to someone when they are scrolling their feed? Don't just be another recipe Pin with "two images, broken up by a white bar with text." (You know the style, right?) Consider how will you make YOUR chocolate chip cookie Pin stand out from the rest?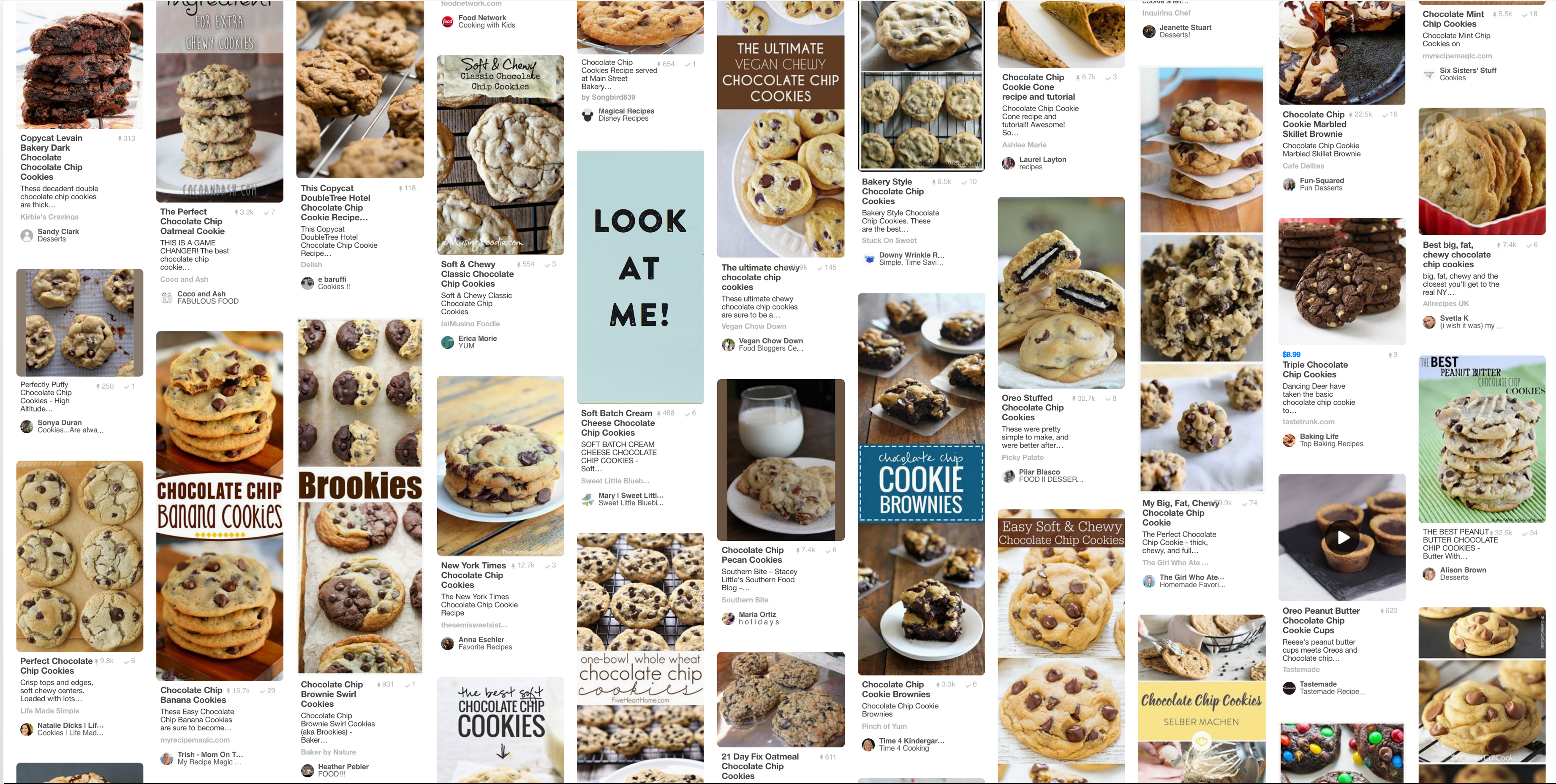 Here are a few things to keep in mind when creating your images:
Make sure any text overlay is large enough and clear enough to be read when the Pin is seen in someone's feed on both desktop and mobile. Font that is too little will be hard to read on small screens.
If you're using text overlay, mix up where you place it on the image. Try new font pairings that work with your brand and explore using different colors. Test to see what works best for you.
Make sure Pinners will understand what your content is about from your creative. You want them to instantly understand what they would get if they clicked your image.
2. Not pinning your own content enough.
Are you getting caught up in some ratio of Pinning your own content vs. other people's content? Tell me …. why? A lot of people get hung up on this. But I can tell you with 100% guarantee, you will not attract readers to your blog, or customers to your online shop by pinning your friend's cake tutorial. Spend time Pinning your own content. This is what matters most. Pinterest does like for you to be active, so if you have nothing to pin, by all means … yes, pin other stuff. Just don't stress about it or make it a priority. You will only be hurting yourself for not pinning your own content. All of the top brands and bloggers spend more of their time pinning (you guessed it), their own stuff!
3. Your Pin image is good but your landing experience is poor.
Or worse, it feels shady. The most disappointing thing I see bloggers do on Pinterest is to go to the trouble of making a blog post, and a long Pinnable image that highlights something like "12 Crafts To Do With Kids" or "6 Vegan Soups" …. that has NOTHING to do with content they've created. Have you ever clicked on a Pin like this only to find out that blog post is just links to 24 other blogs? As a reader that feels like a pretty poor experience to me, because I thought I would click the Pin and get the content. But nope–I just get a bunch of other links to click on. Bloggers spend a lot of time making content like this, but for what? That traffic you are getting is basically just because you are doing soft click bait tactics. It is not meaningful traffic for you. The Pinners are likely not sticking around, they are bouncing (and likely fast). I also happen to think you should be very careful when it's obvious that you are using other people's images to gain traffic. If you've asked permission, you don't mind the artificial traffic, and you want to spend all of that energy doing these posts, then, by all means. Personally, I don't think it's worth the time and you could be doing more meaningful things to help grow your blog and business with real, meaningful visits.  Here are a few things to keep in mind to make sure you're providing a good landing experience come from a specific Pin:
The image on the Pin is, in some form, also in the blog post. Meaning, what someone saw on Pinterest is in fact there when they clicked through. It doesn't have to be the same size but it should be the same photo.
The page the Pin links to contains relevant content to what was promised in the Pin (not bait and switch!)
Do you think you're spending your time on Pinterest efficiently? Or, are you hung up on one of the three points above? If so, don't worry!
I've put together a free Tip Sheet with three things you should be doing on Pinterest. Grab it below!  Let's make those minutes count and start seeing results for your blog, brand, or business–shall we?
Looking for even more Pinterest marketing tips? Check out: